LIV Golf League features a new style of professional golf and it made its debut at Orange County National Golf Center's Crooked Cat course in 2023. LIV Golf's format boasts a modern take on the game, with an official 14-event season and world-class players, such as Dustin Johnson, Cameron Smith, Brooks Koepka, Phil Mickelson and Bryson DeChambeau. Each LIV Golf League tournament features an individual and a team competition. If you can't attend LIV Golf events in person, you can watch all the action live on The CW Network, stream on The CW app, or on LIV Golf Plus.
Congratulations to Florida native and 2nd place finisher at the 2023 Masters, Brooks Koepka, for taking home the individual win at LIV Golf Orlando, defeating Sebastián Muñoz by one stroke. Torque GC swept the team competition with a score of 36 under par, with Smash GC and 4Aces GC finishing in 2nd and 3rd place, respectively.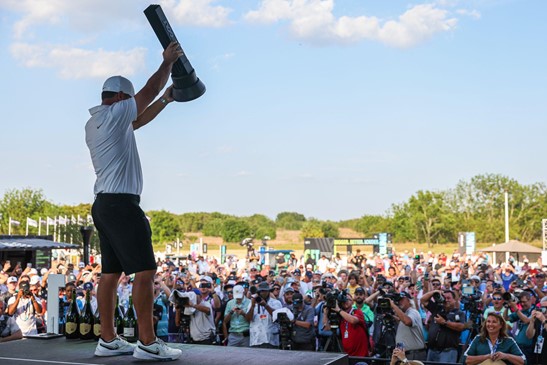 LIV Golf Goes Worldwide
The 2023 LIV Golf League season is visiting prestigious golf courses in seven countries, including first-time stops in Australia, Mexico, Singapore, and Spain.
LIV Golf CEO Greg Norman leads LIV Golf with the vision of transforming the traditional game of golf into a fresh and innovative version of the sport. Norman, a World Golf Hall of Famer and former world No. 1 golfer, designed LIV Golf to put fans at the helm.
LIV Golf League's unique format presents 12 official teams, 48 world-class players, no cuts, and a shotgun start to provide non-stop action across the entire course.
With a purchased Grounds Pass at LIV Golf League events, fans can watch the action up close, listen to live music on the main stage, and enjoy food and drinks at the interactive Fan Village. The Gallery Club offers an open-air venue perfect for socializing with friends, with delicious bites and unlimited beverages. At Club 54, LIV Golf fans can view players warming up on the practice range, check out the tournament at a premier open-air locale on the 18th green, and savor chef-made seasonal fare. The Birdie Shack hospitality package includes drink coupons, a live DJ, and party vibes.
LIV Golf's inaugural season was completed in 2022, with Dustin Johnson taking home the individual prize, and his 4Aces GC team winning the season-ending Team Championship. Events were held at eight courses, including Centurion Club in London and Rich Harvest Farms in Chicago.
This year, LIV Golf League players are vying for the largest prize purse in golf history. Individual players and franchises contend for $405 million each season. LIV Golf events will not conflict with international team events, heritage events, or Major tournaments.
Get ready to experience a revolutionary adaptation of the game at LIV Golf League events.
Watch LIV Golf League player content and view completed events on LIV Golf Plus.